As a firm, it is not out of place to indulge in several tasks at once. However, managing these tasks can prove challenging especially when you're racing against time. As a result, project management has become an invaluable process for companies. But what exactly is project management? Does it offer any value in design? Here, you'll find answers to these questions as well as the 5 best project management tools.
What is Project Management?
Project Management is a planning process companies use to organize and lead their team to achieve several tasks before their deadline.
As seen above, this planning process has become invaluable to companies. And that is no wonder. After all, it helps team leaders to move their team toward productivity.
Through the use of specific tools and regular meetings, you can take control of the progress of your work. But what tools are involved? As previewed earlier, here are the five tools many have found to be effective when managing their tasks.
5 Best Project Management Tools
Trello
ClickUp
Asana
Zoho
Wrike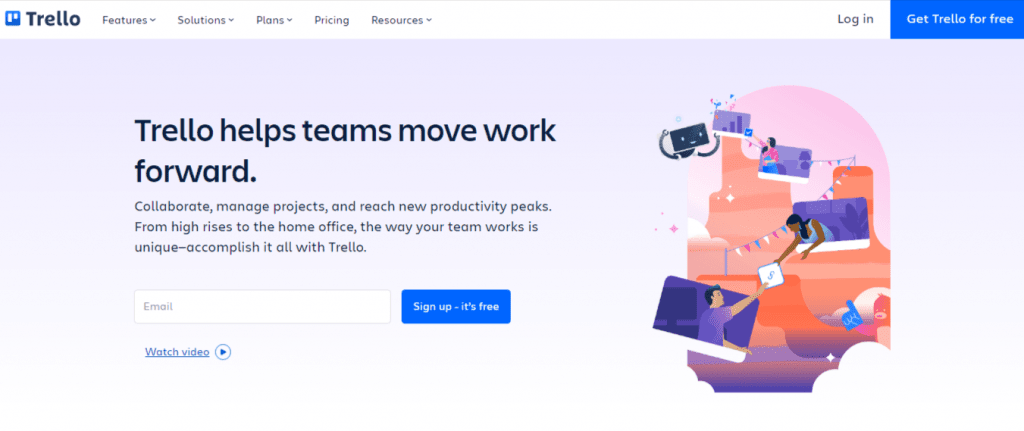 If you are familiar with management tools, you must have come in contact with Trello. It is one of the most renowned tools out there offering high-quality features to users. These features allow for easy collaboration amongst users from around the world. And in terms of editing, Trello is priceless and known for its easy-to-use drag-drop interface.
Features
It allows you to create several workspaces for multiple projects.
It allows you to add attachments.
You can track your progress by using the different task stages. These include the to-do, in-progress, and done categories.
Use boards to organize your lists of tasks.
It offers a working due-date option.
Without a doubt, Trello comes with the complete package. So, if you need to organize your team members better, Trello and its features are for you. So, check out their site and sign up. After all, it is free. However, you can also choose to opt for the premium version with more benefits.
ClickUp is a renowned all-in-one management tool that offers its users features unique to it alone. It allows users to track their progress without any stress. How? By automatically reminding you of your deadline date. But that's only one feature.
Features
It offers multiple views. From board and calendar to list and box, you can display your tasks in various styles.
You can communicate freely with your team via the chat option.
It allows you to customize your dashboards and task statuses.
It offers quality twenty-four-hour support.
There are tons more impressive options waiting for you to discover at ClickUp. So without delay, view their price plans and get started. You can also opt for the freemium version which offers all its primary features.
Trello and Clickup didn't work for you? Not to worry, we've got three more options for your project management. Here is Asana, another tool that lets you lead your team with efficiency. But why choose Asana?
Features
It allows you to set strategic goals for your projects.
You can also check your progress on these goals.
It offers app integration to users. This allows you to bring in all your independent tools and info to make your team's work easier.
The pricing of Asana splits into different plans. But not to worry, it provides a basic plan that's forever free. Is Asana credible? Yes. It boasts different well-known clients like Amazon, PayPal, and Spotify. Impressive, right?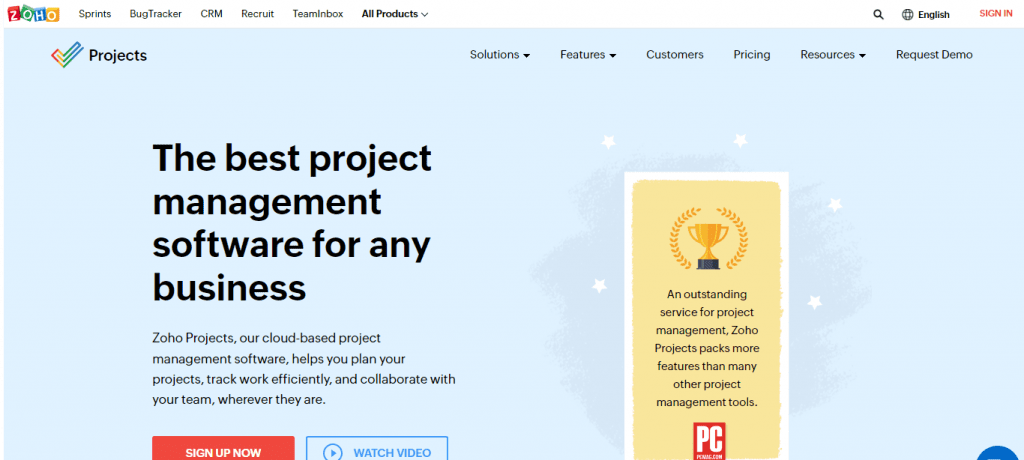 Enter Zoho – another best management software for firms across any niche. It offers an impressive and easy-to-navigable dashboard. Other major features of this tool are seen below.
Features
One top feature of Zoho is its automation. As the name indicates, it allows you to automate projects.
It offers a time-tracking feature.
You can plan your project with Zoho's charts.
It also offers an integration feature.
Trusted by over a hundred thousand firms globally, Zoho is no doubt a well-known tool. Thus, you can be confident in its services. Check out their pricing packages. Like all the above tools, they provide an effective freemium service.
With Wrike, you can get access to a whole new level of management features. These include Gantt charts, Kanban boards, newsfeeds, and many more. No doubt, this tool doesn't come last on this list in any way. More features of Wrike are:
Features
Purpose-built templates.
It offers Calendars shared by team members.
It allows you to create an online to-do list.
It allows you to track time via a timer.
The five tools discussed in this post will help you to complete your projects on time. Not only that, but they'll also ensure that the quality of the work done is ready for use. So, get started with any tool of your choice after performing all comparisons. Don't forget to view Wrike's premium options when doing so.
The Importance of Project Management in Design
As clearly shown in this post, Project management is essential across all industries. And Web Design is no exception. After all, you need to complete different tasks within that process. Some of which include testing and making adjustments. And don't forget the design of your users' experience.
At Kraftle, we use high-quality management tools to get your work done the right way. So, you can rest assured that your project will be completed effectively and on time. Like us, get started on your project management with high-quality tools.